Often compared with Southern California, Lycia has a typical Mediterranean climate with hot dry summers and warm wet winters. The sea water temperature rarely drops below 16°C thus enabling swimmers to have an eight to nine month bathing season.

On a beautiful day in the middle of the winter it is a pleasure to walk on the hillsides overlooking the sparkling waters of the Mediterranean, basking in the sun and enjoying the perfume of thyme, laurel, and sage arising from the "maquis". On such a day it is not rare for the temperature to reach 20°-22°C. (70°F)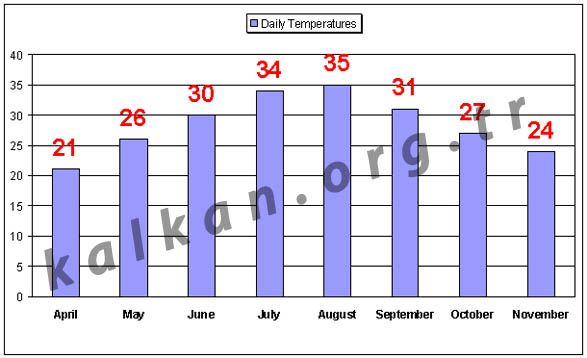 The hottest days of the hottest months are cooled down by the "Meltem" which is a breeze which blows every afternoon. Nevertheless, people who have problems coping with the heat are recommended to visit the region during the spring , early summer, or in the autumn.
This temperature climate is the reason for a non-stop agricultural season which keeps the farmers busy the whole year round with an average of 300 days of sun per year.