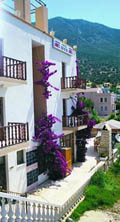 Built in 1994 at a time when tourism in Kalkan was in its infancy the Nur Hotel now boasts a superb location just 5 minutes from the charismatic village centre. Huge changes in the resort have taken place over the last 14 years and the owner manager Baris prides himself on keeping up with the demands of his guests, by updating and upgrading all parts of his Hotel, from rooms to facilities available for guests. Many of whom return year after year and are now considered friends.
The Hotel Nur is small and friendly with 6 suite rooms (2 with kitchenette ), 8 standard rooms and 3 self catering apartments which were built when Baris's father bought the land behind the Hotel in 1999. Not content with just building these impressive apartments he also built another even bigger swimming pool for guests use, something which no other hotel in Kalkan can boast! Although there is lots to see and do in and around Kalkan we find many guests simply want to relax in the sun by one of our 2 large swimming pools with a drink from the pool bar and a delicious lunch from Cafe Nur, which like our bar is open all day for your convience!
Barbaros Restaurant
For evening dining, 2006 also saw Baris opening Barbaros Restaurant picture which proved to be a great sucess with our guests, serving a mouthwatering selection of Turkish and International dishes (and super home made puddings!) in a stylish setting with stunning panoramic views over Kalkan and its bay. We also offer our guests a 5% discount in our Restaurant.
NUR HOTEL & APARTS
We pride ourselves on our service to our guests and provide a seemingly endless list of things we think will make your holiday with us even more special!
Private transfers to and from the airport available on request.
Our library started with just 10 books, now thanks to past guests we have 200!
Relax in our comfortable lounge area. Individual safety deposit box s are available for a small weekly fee. We provide a beach towel for each our private guests for the duration of your stay. Hairdriers are available at reception for your use. As a real treat we provide a reasonably priced laundry service, your clothes washed and ironed and electricity permitting returned a day later! Once a week we hold a Turkish themed BBQ night, poolside, a social,fun filled evening with of course more of our chefs delicious Turkish food! We also arrange a private one day Boat trip for our guests around the beautiful Turquoise bays of Kalkan.

If there is something special you would really like to do please just let us know and we will do our best to arrange it for you. We have in the past and continue to do the most we can to ensure our guests have a holiday to remember. We are happy to provide upgraded rooms for our Tour Operator guests upon arrival and payable locally, or for your peace of mind reserve online.
How to Book?
Contact us by email or phone, your reservation will be confirmed by email. To confirm your booking a deposit of 100 GBP is enough to guarentee your reservation. This will be deducted from your final payment upon arrival with us. We accept cash (sterling or Euro) and we accept credit cards without a commission charge. All prices are shown below.
Prices
Per person per night in double room including breakfast: 14.oo GBP
One bedroom SC apartment per night: 45.oo GBP (sleeps up to 4)
Two bedroom SC apartment per night: 65.oo GBP (sleeps up to 6)

Private Transfer from Dalaman airport two people: 45.oo GBP (each way)

Open Buffet Breakfast available poolside 08.00 till 10.00
Nur Hotel Photo Gallery
Contact Details

Kalkan, 07960 Antalya/Türkiye


Tel : +90-242-844 22 73


Fax : +90-242-844 22 74


[email protected]