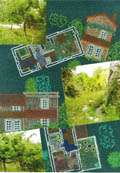 IF YOU'RE LOOKING FOR
Harmonious buildings with their surroundings & nature.
Contemporary solutions with traditional materials.
Quality, speed and economic prices in construction period.
Twelve years experience with architectural design and construction.
Appropriate designs for contemporary requirements fitted to vernacular architectural style.
Right principles with straightforward working.

The Team Is Here.
When you begin dream,
the doors opening to shaded courtyards,
Narrow streets finishing with sea,
To wake up with medeterranean sunlight,
To perceive smell of the jasmin flowers, coming with winds of evening.
Come and acquaint with us.
Let's climb up the steps which will be arrived at your dreams.
OUR SERVICE AREAS
Architectural design.
Surveying and restoration.
Construction.
Decoration.
All engineering services.
Landscape design and application.
Controller & expert.
Furniture design and production.
Swimming pool design and application.
purchase and sale of real estates and building sites.
Village houses for sale.
Connection, seperation, abandonment, establishment, size & scale determination procedures of building sites.
Z Architectural Office Photo Gallery
Contact Details

Yaliboyu Mah. Mustafa Kocakaya Cad. 07960 / Kalkan / Antalya / TURKEY


Tel : + 90 242 844 3555


Fax : +90 242 844 3999


E-mail: